I woke up at 7:00 AM that morning, be prepared and rushed to Tokyo station with Hiro. Our shinkansen ticket would be at 8:48 to Niigata. The day before was tiring, but the image of snow motivated my eyes to open widely as the alarm rang.
It took 1.5 hours to Niigata, and the ski area was just a slight walk from the train station. At first I was wondering. Along the journey I didn't see any snow, since I thought it's spring already. But then the train got into a long tunnel….and as it went out of it, there're mountainous areas covered with snow. Amazing.
After renting the costumes, we got into the gondola that took us up to the mountain. Hiro then taught me how to wear the heavy shoes, to stick it to the board, how to walk, to stand up, to slide, to turn, and to stop the board. It was my first experience. So damn difficult!!! We went to the beginner area and practiced. Well guys, as you guessed before, I did fall down a LOT of times. From 100 metres lane, I fell down for about 80% of it hahahaha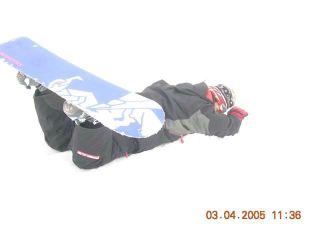 OUCH
But I had fun. Really thanks for Hiro. He realized one of our dream, showing me snow and had snowboarding together. Eventhough until this moment I still had muscle pain all over my body, it was like the best moment I had in my life.