During my stay Hiro always asked me what I wanted to eat and did his best to realize it. Since the first day I already said that I'd like to eat the real sushi, since the one I usually have Surabaya is kind of California roll, or volcano –which are not real sushi according to Hiro. We planned to eat it on Saturday, but then accidentally we went to Osaka thus my last night there was the only chance.
At first we planned to had dinner at Tsukijimi area (hmmm correct?!), but since I insisted to see the famous Harajuku spot first, and on Sunday it's not easy to find a restaurant open that late, we decided to walk a long Harajuku to find a sushi restaurant. Well, not really walk coz then I gave up and cried for a train hehehehe.
Then we found this restaurant. The sushi was handmade, and I could see directly how to make it. We were lucky to be served directly by the manager. Eventhough according to Hiro, from 5 scale, he could give 3 points for the restaurant; for me it was the best sushi ever!!!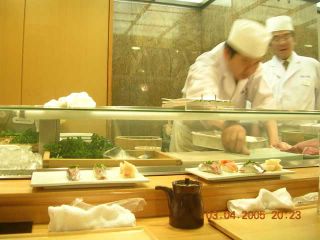 Sushi